Onward's Cruise Journal 2011
Cruise in the Bahamas

April 2011


1 Apr 11; Friday; Black Point

A major interruption in the morning ritual: apparently Chris Parker lost his SSB antenna to a storm yesterday and will be off the air until at least tomorrow. Guess its back to the old look out the port if you want to know the weather. Actually, I will fall back on the Sirius weather data - which I usually look at each morning before I listen to Chris.
I'm always a bit surprised when a new month dawns. Cruising life seems a bit timeless so when the real world intrudes it comes as a bit of a surprise. Not a bad thing...
I got hooked reading Martin Cruz Smith's new novel on my iPad and that was it for the day.
2 Apr 11; Saturday

This morning, Raymond came by for me to take a picture of his new wave runner for the BCG. He now has 4 of these that he rents out in the local area. After I took the photo, he told me I had to try one out and proceeded to bring one out for me to use. What a hoot! It reminded me of the first time I drove my Vespa 150 motor scooter in college -- wow! 25 mph sure looked fast. I took a very brief look at 40 mph on the wave runner and decided that 25 was fast enough for me. When I have a 100' yacht, I'll get one to explore with on hot days.
I bought a couple of new ebooks. Since I've had the iPad I've bought more books for enjoyment than I bought in the previous 40 years. I guess publishers will get the message.
I was disturbed and saddened to learn by email from Deb and Bob on Ancient Mariner today that they asked Melanie to leave their boat because they discovered a good bit of money had disappeared after she came aboard. They actually took precautions with their ready cash locker marking it so they would know if it was tampered with; they then checked it before and after leaving her alone on their boat for a short time and found $800 missing on their return. A couple of weeks ago, I too had found I was missing >$1100 in cash that I could not account for; I did the accounting after being puzzled about going through cash much faster than expected. I didn't want to believe Melanie was the cause. I guess I was wrong. How sad to experience someone who could be so lively and fun to be with descend to such destructive behavior. Other potential victims need to be forewarned.
While ashore, Koala sailed into Black Point and I met Jim ashore. He extended an invite for cocktails which I gladly took him up on. He has two in-line skating buddies aboard, Evan and Gene. We had a great time and cocktails turned into a delicious grilled chicken dinner.

3 Apr 11; Sunday

I returned last night's favor by inviting the Koalas over for breakfast. I got energetic and decided to bake scones. As all I had was a package of Irish Butter, I used an amount that I estimated to be the same as 2 sticks of US butter. It turned out there was a bit more so the scones were really buttery -- not a bad thing. I made Onward omelets to go with the scones which we washed down with the bottle of Perseco that Gene brought aboard. Delish.
I went into town for internet and to get some water. Black Point provides free RO water to cruisers from a spigot near the government pier. I've made it a practice to take a jerry can with me when I Venture ashore to keep the tanks topped off and to eliminate the need to go into a pier to get water. With full water tanks and ~85 gal of diesel, I should be in good condition to make it back to FL later this month. I've now turned my planning to the retrograde and to visiting the W coast to see my children. It has been a great 4 months here in the Bahamas -- in spite of the recent "interesting" developments.
On the way to a beach to swim, I stopped by a boat, Iolar, that had left me a boat card late yesterday when I was aboard Koala. It turned out it was one of the boats I met at Atlantic Highlands this October on my way S from RI. They had lunch with Joahna and I in Atlantic City. I spent a couple of hours in the afternoon at a small CFZ beach swimming, sunning and reading -- a nice lazy Sunday afternoon.
I was able to get through on the satphone to Laura and Joseph but the satellites wouldn't cooperate long enough to get to Joahna whose calls require a stronger signal that will last for a longer call. Both Laura and Joseph were very supportive about trauma of the recent Melanie saga; a real comfort. I told Joe that I had picked up on the fact that he was a bit reserved about Melanie in a subtle way and that this had made me a bit wary because he is a better judge of new people than I. This was one of many small things that made me decide it was time to end Melanie's stay aboard Onward -- before I learned of her theft from Ancient Mariner and had confirmed the "disappearance" of cash from Onward.

4 Apr 11; Monday

The humidity which had been very high for several days was significantly less today and it felt good. Pam and John Loving have arrived in the area aboard their trawler, Compass Rose, and are anchored near Sampson Cay. The Ariels also sailed into Sampson Cay for a couple of days. I plan to either wait here for these friends to come down to do laundry or I will move Onward N.
Groundhog day: did boat chores in AM then went ashore for lunch and internet; back aboard for cocktail hour, dinner, and reading a good e books.
5 Apr 11; Tuesday

I decided to move to Sampson Cay so I went ashore for trash, water, internet, and to say farewell to friends. Lorraine gave me a going away gift of a container of her chicken souse! Neat.
I was underway by 1150 motorsailing N under light SE winds. Just N of Staniel Cay, a 280' megayacht, Seven Seas, was anchored in my path so I had to jog around it. As I rounded its stern to take the direct path to Sampson Cay, I took a photo of its "toys" hanging off the stern. I then looked up to find myself heading to another megayacht, Idlewhile, that had passed me to port and then done a 180 in front of me to anchor to the stern of Seven Seas; it then proceeded to back down across my path. I took evasive action and proceeded in to anchor. I found Ariel in a berth at the marina and Nancy and Jim Aadland on Solitaire, and Samvarro III, another C470, in the anchorage.
Jim and Nancy stopped by and then invited me over for cocktails, I also met Jeff Kornblum on Ko Olina, a retired physician who was also anchored nearby. Nancy gave me a copy of her cookbook: Notes from the Galley of Sailing Vessel Solitaire. I returned the favor with a digital copy of the BCG. I first met them at Little Farmers Cay in 2008 where they introduced themselves as friends of other C470 owners, Mary Jane & Steve Floyd. They are retired FAA check pilots. I had seen them only momentarily in the intervening seasons so it was good to spend time catching up.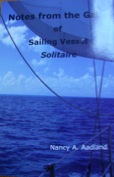 6 Apr 11; Wednesday

After morning chores, I went over to Samvaro III for a visit with Paulo and Sylvia. Last February, I had encountered them entering Black Point anchorage as I was departing. Paulo lives in Miami but has a friend on New Providence who allows him to leave the boat at his pier. They regularly fly to Nassau and then sail the Exumas. We had a grand time discussing cruising and the Bahamas. As they were again about to depart, we promised ourselves we would work out some way to get together over drinks and dinner the next time.
I then picked up Laureen and Miles who had anchored Ariel nearby and we went off to Sampson Cay Club for great pizzas and a lot of catch-up as I filled them in on the "Melanie Saga".
Staniel Cay was out of fuel and my jerry can of gas was empty. Sampson Cay Club was short of gas until the shipment comes in 2 weeks and were only supplying fuel to marina guests. However, at the fuel pump, I found my bud Raymond Andrews from Black Point who talked to his bud, Food, who filled my 5-gal container. Good deeds do get rewarded.
I learned from a local that Seven Seas belongs to Steven Spielberg. Good for him! Due to a 13' draft it needs to stay well off shores. As I passed by I got to view its extensive toy store including a huge inflatable water slide and several high-tech tenders. At night, it looks like a floating city. I'm waiting for an invitation to a private screening...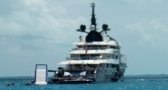 Seven Seas

The yacht features an infinity pool with a 15-ft. glass wall which can also be converted to movie screen. Stability systems of yacht allow it to travel smoothly at 20 knots. The Seven Seas has accommodation and amenities which are good enough to accommodate 12 guests along with a crew of 26, including a private owner's deck centered on a large master stateroom with a study and private deck area with a Jacuzzi. The list of luxurious amenities is long as this super yacht also features a helipad, gymnasium, a spa and massage room, indoor cinema

Laureen and Miles needed a Farkle fix as I had successfully addicted them last month so I invited them over for cocktails. I gave Laureen 2 of my extra die so they could now play aboard Ariel. I then proceeded to continuously place 3rd for most of the game where the scores remained close until I had an amazing throw, something only Harriet can do, and pulled so far ahead there was no contest. To ameliorate their defeat, I served them a desert I had whipped up: a pre-baked granola pie shell filled with a can of apple pie filling mixed with a can of blueberries; this topped with ice cream and whipped cream. Delish.

7 Apr 11; Thursday

It was a bit overcast today. Yesterday, Laureen gave me Pat Conroy's novel, South of Broad, so today I thought I would take a look and got captured.
This afternoon I realized how much I am looking forward to flying from FL to CA to visit with my children after I get back to the US. While I'm still enjoying myself here, I've decided to look for the next weather window to return.
The Ariels invited me over for dinner. Laureen prepared Mahi and pasta. Delish. I got to meet their friends Don and Suzy Moore aboard Silver Girl another Annapolis vessel.

8 Apr 11; Friday

Ariel departed for Staniel Cay. I spent a relaxing day captured by South of Broad.
Got a report of Melanie's whereabouts and helped pass it on to the police so she could be picked up.
Made the decision to move back to US as while I'm continuing to enjoy the cruise here, I'm looking forward to getting to the West Coast as soon as possible.
9 Apr 11; Saturday; Sampson Cay to Cambridge Cay

I moved Onward to Cambridge Cay via the S entrance to the mooring field / anchorage at high tide (2.8' above MLW) and saw a minimum of 8.0'. Shortly after anchoring, Silver Girl and then Ariel came in from the Sound and anchored.
I invited all over for cocktails and dinner.and we had a great meal: marinated beef tenderloins grilled; mashed potatoes, green beans, sauteed peppers and onions. Delish. We introduced Suzy to Farkle.
This was the first big entertainment I'd done since I'd asked Melanie to leave so it made me aware of the good times that go along with the not-so-good. It was good to have an interesting woman as part of my life for a while -- even if it it turned out to be more "interesting" than I thought.

10 Apr 11; Sunday

Compass Rose with Pam & John Loving came in through the southern entrance to the Cambridge Cay mooring field and I went over to hand up the mooring pennant. I had been trying to catch up with my old dock mates from Annapolis for some time and finally managed it. I went aboard to chat for a while and invited them over for dinner.
Henry, the ECLSP Warden, visited the anchorage and we spent a short time discussing the situation with Melanie as he had also been duped by her.
I spent the rest of a lovely day continuing to be captured by South of Broad. I took a pause long enough to invite the Ariels and the Silver Girls to join Onward for dinner.
I decided to grill a small canned ham and a package of ribs. I also made some red beans & rice. Then I felt a bit creative. I made a fruit & nut chutney of cranberries, red cherries, citrus medley, and walnuts and put it in the freezer to serve as a garnish to the main course and / or desert. I found the remnants of the mashed potatoes from yesterday and had a flashback to Mom making potato pancakes for me as a child -- so, i sauteed sweet onion, green onions, the remnants of Suzy's green beans and then added this, condensed milk, some white wine and an egg and beat it up. I took me a while to figure out how best to fry them so they didn't look as good as they apparently tasted. My guests liked my "latkes".
One of the things I enjoy doing is inviting to dinner cruising friends from several boats who I meet in an anchorage and I know well and but who don't know each other. It's fun to see these friends meet and enjoy each other. Needless to say a good time was had by all - particularly the Captain of Onward.

11 Apr 11; Monday; Sampson Cay to Warderick Wells Cay

Winds were light from the E so I motored from Sampson Cay out Bell Cut to the Sound and N to Waderick Cut. I first stopped to say farewell to the Ariels and the Silver Girls. I hope to see them again on the way N.
At Warderick Wells, I picked up mooring 9 on the second try because I tried to be cute on the first past, going down current but the boat hook pulled apart. After I turned around into the current, the pick up was simple. I looked up after getting the pennant secure to see a dinghy with two guys who were nice enough to pick up the floating 2/3rds of the boat hook.
Compass Rose came in a couple of hours later and I helped them with the mooring and invited them to dinner. Pam refused and said dinner was aboard Compass Rose. I brought over a package of beef brisket for the dinner then headed to the small beach N of the cut which is a nice CFZ where I got my last chance to tan and swim in these beautiful waters before heading back to FL tomorrow morning. We had a great dinner aboard Compass Rose and discussed how much more wonderful the cruising life has been for us compared to any concept we had when we were still in Annapolis. Ain't life grand!

12 Apr 11; Tuesday; Warderick Wells to Nassau

Onward dropped he mooring at Warderick Wells and was underway for Nassau at 0515. About 0645, i went below to use the SSB to call Chris Parker for a weather update. I couple of minutes after I did so, Onward caught the edge of a sandbank I was cutting close to. Wouldn't you know it. No big thing. I had to work a bit to get unstuck but I popped loose and was soon underway. Never got to talk to Chris but someone else asked a close enough question that I confirmed that the weather window was going to hold.
I arrived at Nassau harbor just before 1600 having averaged ~ 8 kts motorsailing under genoa. I decided to try a new place to anchor on the W side of the bridges and cruise ship terminal where I would be closer to the exit in the morning. Winds were forecast to be close to zero so I wasn't worried about the seas from the entrance disturbing my sleep. I saw a beautiful shelf 11' deep on the E side of the channel just S of the cruise ship basin. Unfortunately, when they dredged the channel to 40', they apparently scraped all the sand off this shelf because it was all marl that the anchor could not penetrate. After looking at a couple of other places on the W side of the channel, I passed them by as being too narrow. I settled for another place on the W side just NE of the cruise ship wharfs. I put on the cockpit rope lights to be sure I was well visible to vessels in the nearby channel Good holding and light winds gave me a peaceful night and I slept well.

13 Apr 11; Wednesday; Nassau to Great Issac Island

Onward weighed anchor and was underway at 0515 in the dark. But with the ambient light from the cruise ship terminal and the city plus radar, it was an easy job to navigate out. I timed it right - just before a set of cruise ships were to enter later in the morning. i set course for Chub Cay and the NW Shoal waypoints leading onto the Grand Bahamas Bank. Just after crossing onto the W edge of the GBB, a squall line I had been watching on Sirius weather and my radar came through with just a lot of rain and winds to ~30 kts - no big thing. The squall line quickly passed and the sun reappeared. Onward averaged > 7 kts for most of the trip. At one time a pod of dolphins apparently spotted Onward and headed directly for her from some distance off. The swam directly for midships and dived just before getting to the side of the boat - then they simply disappeared. I saw no evidence of them swimming away or playing in the bow or stern waves as they like to do. Neat and weird.
Just after sunset, Onward was ~ 4nm W of Great Issac Island so I headed off the rhumb line by ~ 0.5 nm and anchored for the night in 30' of water. I could see a couple of fishing boats anchored a couple of miles away and i again put the cockpit rope lights on for the night. The wind died and it was a nice peaceful night until the wind started picking up from the E at about 0400. This was a much more comfortable night than when I anchored here last year.

Apr 11; Thursday; Great Issac to Lake Worth

Onward was again underway at 0515 in the pre-dawn darkness. The exit from the GBB into the NW Providence Channel was made interesting by the arrival of an island RORO freighter just before I got to the waypoint. But with our nav lights and radar it was a safe and easy passage. With the rhumb line course to Lake Worth being ~320º, my nav model for crossing the Gulf Stream said I should steer 310º. I essentially followed this once I was 10 nm from Great Issac and began to feel the effect of the GS. Onward averaged close to 10kts with the current and the ~10-15 kt E wind helping her motorsail under genoa.
I was making such good time and weather and sea conditions were so good that I started considering going into Jupiter or St. Lucie inlets. Reading the Costal Pilot was really off putting. I called John MacDougal by satphone but couldn't get him then I called Ingred and Ron looking for local knowledge. I finally talked to Ingred who confirmed my feelings that the St. Lucie inlet was not for me. John sent me an email with the same message so I pressed on with the original plan.
The entrance to Lake Worth was peaceful - a far cry from the hugh swells Onward faced on last year's return. I was inside by 1315. A great crossing.
I piloted Onward N to the anchorage in N Lake Worth where I had a celebratory cocktail after anchoring. What a great Bahamas cruise this had been.
As I approached the shore, I turned on my cell phones and found that my service was already in operation. I was a bit surprised as i had asked to have it suspended until the end of April or when I called to restore it. i also discovered that my Droid smartphone had gone bonkers while not being used. Could this be because it was so smart it felt unloved and abandoned so it was acting out? I'll have to ask my daughter Joahna. I had first noted a problem in George Town when I turned it on one afternoon to see if I could use the gps function. It immediately went crazy , would not respond to the touch screen, and started making outgoing calls. This startled me because it is a CDMA phone and the Bahamas cell phone system is GSM. I later learned that George Town is one of the few place where dual service is available. In any case I had to remove the battery to stop it. The phone had been stored in a ziplock bag to protect it from moisture so I don't know what could have happened during the months I never touched it. Now, back in the US, it again went crazy: not responding to the touch screen, then performing operations and dialing numbers without me touching it. I used my backup phone to call Verizon Wireless customer service. The young woman was great and after uploading new software and roaming instructions there was no improvement. Unfortunately its warrantee had just expired. This led me to conclude it was a sign that I should upgrade it to the iPhone 4 I was lusting after.
I used the LBO program to check in with Customs and Border Protection - again as easy as pie. This set me up for an afternoon nap.
Then after calling my children to tell them I was back, I had an early dinner, another drink, and watched another episode of Hornblower on my iPad -- a GREAT series. i soon fell into a deep exhausted sleep in spite of my nap.

17Apr 11; Friday; Lake Worth to Stuart

Onward was underway at 0645 to make the 0715 opening of Parker Bridge. I was fortunate to be able to clear all the drawbridges without loosing stride and was at the junction with the St. Lucie River at 1100. The infamous passage between R2 and R4 has already silted in a bit. Right in the center Onward touched a 6.1' spot and powered through.
I anchored off Loggerhead Marina for the afternoon because I was too tired put up with the bother of docking today. So, I relaxed, read, napped, and got frustrated at my crazy Droid.
16Apr 11; Saturday

I put Onward into a floating slip and was fortunate to have a good neighbor, Neil, on the powerboat next to me who gave me a hand with the lines.
After getting settled, I spent more time with Verizon Wireless as I discovered they had turned my service on in February and of course had been billing me - they said they should correct this. Then I discovered that my data plan had been changed to a 5 GB/mo limit. I had the unlimited plan and when VW had called me about "improving my plan" I was assured there would be no change in my data usage limit -- so they promised to fix this. Then I called to check on replacing the Droid with an iPhone 4 and found out I could do it at the Stuart store. In spite of my problems, interacting with all the Verizon Wireless customer support people was actually a very pleasant experience.
I called Ron & Ingred to say hello and after hearing about my crazy Droid, they kindly said they would pick me up and take me to the store. So, by midafternoon, I was the pleased owner of a new iPhone. I took Ron and Ingred out to lunch to celebrate. However this was after I visited their C470 which, of course, looks better than a brand new boat out of the factory. Ingred showed me a number of things she sewed so now i have a much longer to do list. As I didn't have any valium to assuage my augmented feelings of inadequacy of my boat keeping skills after seeing High Priority, I had 2 beers with lunch and they helped out just fine. Again I have to pinch myself that I've been able to make good friends like Ingred and Ron through my cruising. Neat! AND I got invited to go to a party with them nearby on Sunday evening.

17-20 Apr 11

I had a nice time at the party with Ron & Ingred. It was an end of the season farewell party of their windsurfing friends hosted by a retired MD, Ann, from Washington DC who has a nice home on the river just N of the marina. It was a group of very nice people and I had a great time.
I was able to get together with my fraternity brother Bob Langevin for lunch at Manatee Pocket again and a bit of a tour of Stuart. We had grand time reminiscing about our college days.
I managed to do some cleaning and organization chores as well as prepare for my trip to Los Angeles.

21Apr 11; Thursday; Stuart FL to Los Angeles

Bob Langevin graciously volunteered to drive me to the airport at Ft. Lauderdale. We toured the beach area of Ft. Lauderdale on the way and had a nice lunch together before going to the airport.
The trip on Southwest to LA was uneventful except for a delayed start due to the plane being delayed by thunderstorms on its way to Ft. Lauderdale. A good tail wind allowed us to make up time and I made my connection in Houston. When I got to LA I was pleasingly surprised to find that my duffel bag made it too!.
I took a cab to Laura and Kurlen's new home in the Hollywood Hills and found the area and the house delightful. It was great to see Laura and Kurlen but I had to wait to see Elena as she was sound asleep.

22-28 Apr 11; Los Angeles

29-30 Apr 11; San Diego

Laura Kurlen and Elena were scheduled to fly to denver for a few days so Laura made arrangements with Joe for me take the train from LA to San Diego so I could spend the weekend with Joe and Amie. Laura and Elena drove me to the station and I had a business class seat for the trip. I had a great view of the coast all the way to San Diego.
Amie met me at the station and then we went to the airport to pick up Joe. After a brief stop at their apartment, we met one of Amie's college friends and her mother at a restaurant to celebrate the friend's birthday.
I got to go to the University of San Diego campus with Joe on Saturday where he had a project meeting with classmates in the MBA program. I explored San Diego while he was busy. I also got to explore the magnificent building donated by Joan Krock where the MBA program is located.